Flight1's Ultimate Traffic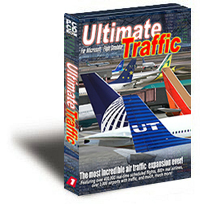 This page is for information regarding Flight1's Ultimate Traffic series of products.
End of Development Notice - July 18, 2008
Flight1 would like to inform customers that our "Classic" versions of Ultimate Traffic have reached the end of their development cycle, and starting September 1, 2008, official customer support will be limited to known issues only. This means that we will not be able to devote research to any new issues that may arise. We will still address known common issues (via a Knowledge Base-FAQ system or in the Ultimate Traffic support forums). This announcement covers the classic Ultimate Traffic products for FS2002, FS2004, and FSX. They may have been sold under several variations including "Ultimate Traffic 2007". Also, we will also no longer be able to supply new schedule data for these classic versions of the product.
The reasons for this notice are pretty straightforward.
The Ultimate Traffic series of products have been a great franchise for Flight1, and we plan to continue the franchise with new version releases of "Ultimate Traffic" for Microsoft's Flight Simulator. However, for the classic editions, we are dealing with a code base that goes well back to the FS2002 release of Flight Simulator, in a programing language that has only limited support from Microsoft. Our decision is to not spend any more development time with this classic code base, and only focus on our new development for the next generation Ultimate Traffic product.
We have also had some requests for schedule updates for the current classic versions. The problem with this is that in order to get the accuracy we think is necessary, it would take a considerable effort to do this. Many airlines have changed, folded, merged, and aircraft types have changed also. A new schedule would not give us the number of flights we think customers would want, unless we completely reworked our core data files, and created more liveries and models. So the decision was made that further schedule, airline data, and aircraft updates would not be made to the classic versions of Ultimate Traffic.
In regards to the "Next Generation" of Ultimate Traffic, we can only say that an all new edition is well into development. It uses all new code, and we envision it to be a very exciting product. Again, we cannot say much about it now except we hope that it is released later in 2008. It will be an FSX only product.
We apologize to customers that feel we should offer better support for the classic product. It is just that we cannot address the classic version anymore when so much effort is being put into the next generation product. For customers who really want the classic version of the product, they will still be able to obtain it. We will however be putting up a reference to this notice on our Ultimate Traffic product pages.
If you did purchase the classic version recently from Flight1, and are not happy with this announcement, you are welcome to take advantage of Flight1's 30 day return policy. In fact, we may be able to extend this policy for an extra 30 days (60 days total) for you on this product, if you recently purchased it from us.
So please stay tuned... We hope to have new information for you in the near future.
To visit Flight1, please go to http://www.flight1.com.
To visit the Ultimate Traffic forums, please visit http://ultimatetraffic.flight1.net/forums.